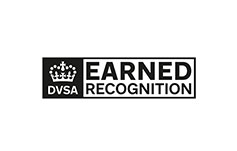 DVSA Earned Recognition Brochure
The Earned Recognition Scheme initiative is designed to help vehicle operators by reducing the number of roadside stops and checks by DVSA enforcement officers.
Roadside checks typically have an impact on business efficiency because they inevitably result in delays and subsequent fines from customers for missing allocated time slots. By utilising Key2 and sharing data with the DVSA you will significantly reduce routine roadside inspections.