Homeworking is highlighting the need for fleets to have better access to data to make informed decisions.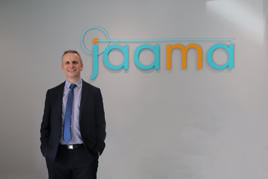 That's according to Jaama, which enjoyed a record-breaking year in 2021, with fleets upgrading driver and asset management systems during the Covid-19 pandemic.
Jaama managing director Martin Evans (pictured) told Fleet News: "You need visibility and that doesn't work if you're at home and you've still got a paper-based system."
The latest available data shows that commuter numbers are still almost a quarter down on levels seen in February 2020, before coronavirus took hold in the UK.
Google mobility data for a Thursday (May 12) — the peak weekday for office working — showed commuter numbers were still more than 20% below pre-pandemic levels, which is broadly unchanged compared with last September.
"We believe the pandemic has increased the focus on reducing the paperwork handled by the fleet department by at least a decade through automation and remote functionality including apps, dashboards and touchscreens in workshops," said Evans.
During 2021, Jaama on-boarded several contract hire and leasing companies for its Key2 business solution. It is now working with a quarter of the FN50.
A further 15 rental and fleet customers were on-boarded, with compliance, cost control and remote working being top of their agenda.
An increasing number of Jaama's new customers also bought Key2 with the objective of helping them securely manage the growing amount of electronic documentation that is required to run their fleets of vans and trucks.
Drivers can now carry out daily inspections via the integrated mobile app, which Jaama says negates the need for paper defect books as the information submitted automatically updates the back-office system in real time, triggering reminders and actions previously managed manually.
ELECTRONIC SIGNATURES
Its electronic-signature functionality is also proving very popular as many companies are attending fewer in-person meetings, jobs can now be authorised remotely.
Some companies, said Evans, are also beginning to opt for non-maintenance contract hire as mileages reduce, heightening the importance of proactive management of service, maintenance and repair (SMR).
"This can only be achieved with the right systems in place to measure and monitor data, and produce strategic business information, to ensure the right decisions are being made at the right time," he added.
As much as the pandemic has driven change, Evans says the switch away from internal combustion engine (ICE) company cars to electric has persuaded more leasing companies to give drivers the ability to obtain and self-serve their own quotes.
Web-based portals, such as its Key2 Quotes product, enables drivers to understand what the transition looks like when moving from an ICE car to a hybrid or EV by presenting all the different options side-by-side, including the associated benefit-in-kind (BIK) tax the vehicle will attract.
"Presenting the information like that really does help," said Evans. "Leasing companies are experiencing more driver questions and queries than ever before as the industry continues its move to zero emissions by 2030.
"We have set up our systems to make this transition as easy as possible and for drivers to be presented with comprehensive information in order for them to make their own decisions."
The entire fleet industry, including the Jaama team, has been faced with changing the way it works during the pandemic, particularly when on-boarding new customers and implementing complex software systems.
REMOTE TRAINING
Traditionally, this would have taken the form of face-to-face meetings, but, since March 2020, Jaama has trained and implemented a significant number of its products remotely.
"We recognise that it suits some of our customers to have remote training particularly for a nationwide customer operation; however, face-to-face training is still the most appropriate format for many customers," said Evans.
"It was pretty daunting in the first instance for our team and our customers, but we soon realised that online working is a very efficient way of delivering training.
"It continues to remain very personal and specifically tailored to each customer with different course delivery for different training needs. Importantly, virtual training has enabled projects to progress to completion and kept everybody safe during the pandemic."