With the way people communicate through mobile phones becoming more video led, is your mobile phone policy up to date and communicated with your drivers?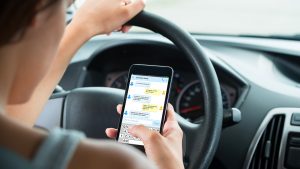 According to recent research from the RAC, 29% of drivers of all ages in 2020 say they make and receive calls on handheld phones while driving – the highest proportion since 2016. 
Using a mobile phone – hand-held or hands-free – while driving is deemed to be a major driving distraction with attention taken away from the key task of driving. At-work drivers are more likely than most to use a mobile phone while driving and, according to research, users are four times more likely to crash, injuring or killing themselves and/or other people.


Using a hand-held mobile phone whilst driving is illegal.

You can get 6 penalty

points

and a £200 fine if you use a hand-held phone when driving. You'll also lose your licence if you passed your driving test in the last 2 years. You can get 3 penalty

points if you don't have a full view of the road and traffic ahead or proper control of the vehicle.


As best practice, employers should have a 'mobile phone policy' as part of their driving at work policy that states that employees should not use their mobile phones – including to make or receive video calls, play games, browse the internet etc. – whilst driving. The policy should be communicated to driving staff on a regular basis and discussed with them – typically during team meetings and at appraisals.
Best practice also suggests that checks are undertaken to ensure that mobile phone policy procedures are followed by employees.
Driver Apps such as MyVehicle App is a great idea but policies of where and when the App can be accessed must be communicated.